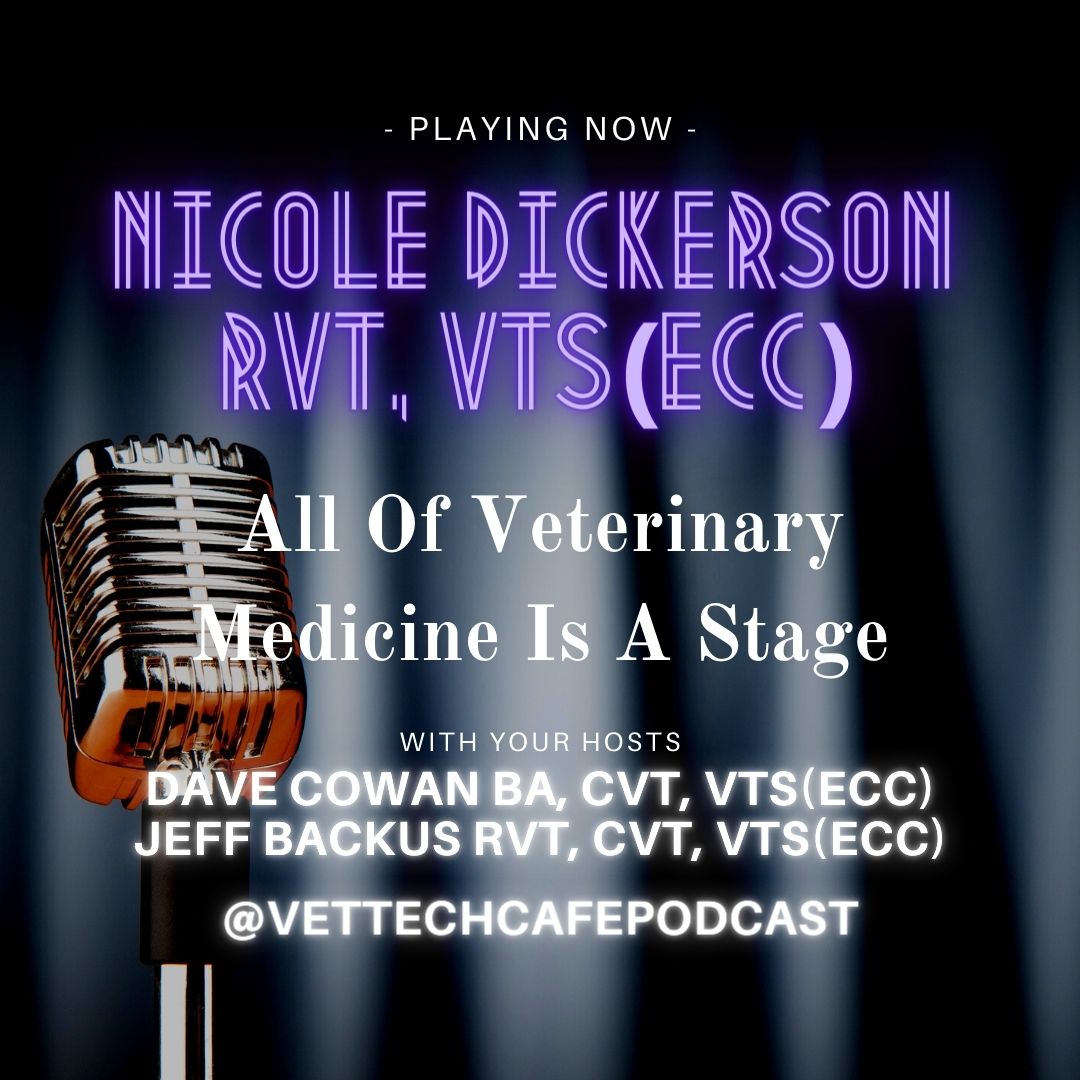 Nicole Dickerson has been working in the Bay Area as a registered veterinary technician for the last 11 years. Before then, she worked as a free-lance Equity stage manager for theatres such as Berkeley Repertory Theatre, American Conservatory Theatre, California Shakespeare Theatre, and Teatro Zinzanni. After working with cats and dogs in emergency and specialty hospitals for the majority of her career, Nicole recently transitioned into laboratory animal medicine, and now supervises a veterinary technician team through work with multiple species. She serves on the CVMA's House of Delegates and RVT Committee, has been published in the NAVTA journal, hosts the podcast "Cat Disgusted," and is honored to have traveled to Puerto Rico as a volunteer anesthetist for the Humane Society of the United States' Spayathon for PR.
We spent some time chatting with Nicole this week about how theater and veterinary medicine parallel. Wondering how that could possibly be?? Give a listen. 
To find out more about Nicole and her various interests check out her links below.
Cat Disgusted, a podcast about veterinary technicians and the people and animals who love them.
On SoundCloud, iTunes, and Podbean!
soundcloud.com/catdisgusted
Beryl and Nicole
YouTube channel:
Or just search for our channel under "Beryl and Nicole"
This Stellar Madness
This Stellar Video: 
This Stellar Audio: 
This Stellar Merchness: 
To learn more about our stuff click the links below:
Follow us on Facebook: https://www.facebook.com/vettechcafe
Follow us on Instagram: https://www.instagram.com/vettechcafepodcast
Like and Subscribe on YouTube: https://www.youtube.com/channel/UCMDTKdfOaqSW0Mv3Uoi33qg 
Our website: https://www.vettechcafe.com/
Vet Tech Cafe Merch: https://www.vettechcafe.com/merch
If you would like to help us cover our podcast expenses, we'd appreciate any support you give through Patreon. We do this podcast and our YouTube channel content to support the veterinary technicians out there and do not expect anything in return! We thank you for all you do. 🐾
Patreon: https://www.patreon.com/vettechcafe
Dog Days Consulting - https://dogdaysconsulting.com/